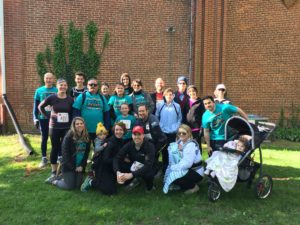 Once again, GKH's team of 24 registered runners made a strong showing in the YWCA Race Against Racism.
The team of GKH attorneys, support staff, family and friends ranged in age from children in strollers to founding partner Elvin Kraybill, who finished second in his age group. The team consisted of multiple family units, including three generations of Kraybills (Elvin, Peter, and Peter's children) for the fifth year in a row.
"The Race Against Racism is one of Lancaster's most beloved annual events, both because of the joy, energy and community spiritedness Race Day always seems to bring, and also because the funds raised support such critically important work," said GKH partner Ann Martin, who participated in this year's race with her husband.
GKH has supported this annual community event for many years, both as a sponsor and by participating as a team. This year marked GKH's sixth year as a Freedom Sponsor. In addition, GKH attorney Sheila O'Rourke serves on the Lancaster YWCA Board of Directors.