About GKH
You have a choice of many law firms and attorneys. Why choose GKH? What makes us different?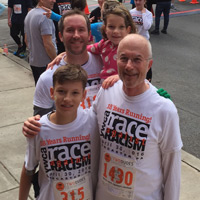 Connected to Our Community
GKH has strong roots in the local community. We live here, send our children to local schools, attend local churches, serve on school and nonprofit boards, and volunteer with community groups. We understand our community and the individuals who live here. Whether we are preparing a complex estate plan, attending a zoning hearing, negotiating the sale of real estate, or defending an individual's civil rights, our firm's deep roots in this community allow us to better serve our clients. We also care deeply about the less fortunate and marginalized in our community. We are committed to serving everyone in this community, regardless of social or economic status. We frequently provide pro bono legal services, volunteer with local community groups, support or sponsor numerous community initiatives, and offer an annual series of complimentary seminars on a variety of legal topics. Every year, GKH demonstrates our commitment to service and justice for all members of our community by participating in various service projects and events, including sponsoring a team in Lancaster's Race Against Racism. In 2018 GKH was recognized by the Lancaster Bar Association with the Susan Danforth Award for its longstanding commitment to pro bono and volunteer work.
Rooted in Relationships
GKH believes that providing high-quality legal services involves an ongoing process of building strong relationships with clients. We maintain that the strongest attorney-client relationship is built over time, as the firm learns and understands a client's interests, culture and objectives, and as a client builds a level of confidence and trust in GKH's attorneys and services. GKH's commitment to fostering long-term client relationships ultimately leads to a higher level of service and satisfaction to the client, as well as better results. The firm's size helps facilitate this model of relationship-building: we are large enough to handle a wide range of complex legal matters, yet we are small enough to provide personal attention to clients and their matters.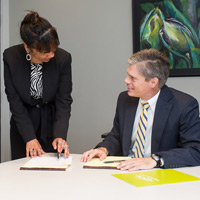 Committed to Service
Our firm was founded in 1977 by John Gibbel, Elvin Kraybill and Melvin Hess based on a common commitment: to provide the best service they could to their clients and to the community. Guided by this shared vision, the firm has steadily grown, building a strong client base and developing a solid reputation for providing excellent legal services. Our 18 attorneys and experienced support staff assist our clients in a wide variety of legal matters. Whether you're starting a family or starting a business, purchasing a home or selling a company, planning for the future or addressing the challenges of the present, GKH's attorneys have the breadth of knowledge and experience to help you achieve the best possible outcome.
History
Gibbel Kraybill & Hess LLP ("GKH") has been engaged in the general practice of law and providing legal services to clients in the south-central and eastern part of Pennsylvania since 1977. GKH has steadily grown from its original three founding partners to seventeen attorneys supported by a dedicated and capable staff. In 1988, the firm moved to an office building in Lancaster City, across from the Lancaster County Courthouse. GKH also had a fully staffed office in Lititz. In 2015 the Lancaster and Lititz offices came together at a new central location at 2933 Lititz Pike, allowing GKH to more efficiently fulfill its mission "to empower individuals, nurture community, and promote justice with integrity and compassion." View the complete Mission Statement ». GKH also maintains meeting space in Lancaster City, and a staffed office in Ardmore under the direction of attorney Peter Kraybill.
Our Founding Partners
The three founding partners have deep roots in Lancaster County. John Gibbel is a native of Lititz and has practiced law in Lancaster for more than 50 years. John graduated from the University of Pennsylvania School of Law. Elvin Kraybill grew up on a family farm near Elizabethtown and graduated from Georgetown University Law Center. He has practiced law in Lancaster County since 1973. Melvin Hess also grew up in Lancaster County on a family farm in Manheim Township. Mel graduated from Franklin and Marshall and the Seattle University School of Law. He has practiced law in Lancaster County for more than 40 years. John, Elvin and Mel founded GKH based on a shared vision of serving others by providing high-quality legal services to individuals and businesses in Lancaster County and beyond.
Our Practice
The firm has diverse practice areas that include estate planning and administration, elder law, business succession planning, corporate and commercial law, nonprofit organization, employment law, real estate, zoning and land use, municipal law, general and complex litigation, civil rights litigation, administrative law, and criminal defense. This diversity of practice accommodates the broad range of clients we serve, including individuals, families, businesses, churches, nonprofit organizations, municipalities and citizen groups. The firm represents clients throughout central, south-central and eastern Pennsylvania. Go to Practice Areas »