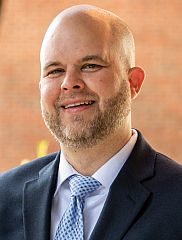 GKH is pleased to announce that Ryan M. Burroughs has joined the firm as an Associate attorney practicing in the areas of elder law, estate planning and estate administration.
Ryan holds a bachelor's degree in Food Science and Human Nutrition from the University of Florida and an M.B.A. degree from Oklahoma State University. He earned his J.D. degree magna cum laude from Widener University Commonwealth Law School.
Prior to becoming an Associate attorney, Ryan worked as an Elder Law Paralegal with GKH while attending law school. While in law school, Ryan was awarded the ALI CLE Scholarship & Leadership Award and the CALI Excellence for the Future Award in Estate Planning. He served as an Academic Success Fellow and participated as a member of the Trial Advocacy Honor Society.
Ryan lives in Lebanon with his wife and their two dogs. In his spare time, Ryan enjoys spending time outside cycling, running, hiking, camping and fishing, or inside cooking, reading, and listening to music.
Please join us in welcoming Ryan to the GKH Team.