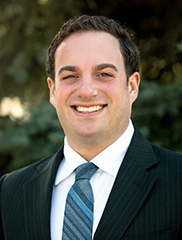 GKH is pleased to announce that Ian R. Brinkman has joined the firm as an associate attorney practicing in the areas of corporate, nonprofit and employment law, trademark law, real estate and business transactions, and individual and entity licensure and compliance issues.
Ian holds a bachelor's degree in C.L.E.G. (Communications, Law, Economics, and Government) from American University, School of Public Affairs and a law degree from The Pennsylvania State University, Dickinson School of Law.
As a law student, Ian focused on tax and business law. He also led the Legal Intake Clinic at Bethesda Mission and the Volunteer Income Tax Assistance Clinic. He served as a mentor to other law students and as a Pro Bono Advocate, and was awarded the 2019 Professor Louis Del Duca Memorial Award in Business Law. He is a member of the Woolsack Honor Society, which recognizes those who have graduated in the top ten percent of their law school class.
Ian grew up in Etters, Pennsylvania, in York County, and now lives in Middletown, Pennsylvania. He spends much of his free time cooking and visiting local state parks, enjoying Pennsylvania's natural beauty.
Please join us in welcoming Ian to the GKH team.