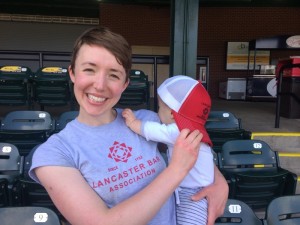 GKH attorney Sheila O'Rourke had an RBI and scored a run for Lancaster in the inaugural War of the Roses Charity Softball Game on September 10. The game, played at PeoplesBank Park in York, pitted the Lancaster Bar Association Lions against the York County Bar Association Batting Barristers.
Proceeds from player registrations and ticket sales benefited the Lancaster, York and Pennsylvania Bar Foundations. The Bar Foundations serve as the philanthropic arm of their respective Bar Associations, existing to improve local communities by promoting equal access to justice through philanthropy, education and service. The game raised over $6,000 for access to justice programs.
Each team consisted of 25 players, including a minimum of two judges, seven women, and two players age 60 or over. All players had to be Bar Association members. Retired judge, Hon. Joseph C. Madenspacher, served as the Lions' team captain.
"It was a great game for a great cause," said attorney O'Rourke. "Thanks to everyone who worked so hard to organize this event and to those who came out in support!"