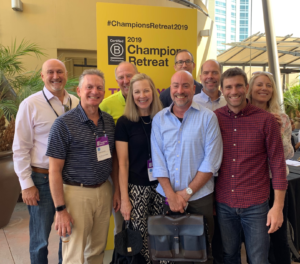 GKH attorney Peter Kraybill joined a group of Lancaster's business leaders learning more about the B Corp/benefit corporation community movement nationwide during a 3-day conference in Los Angeles September 16-18. These local business leaders and B Corp supporters hope to raise awareness of benefit corporations as a target for mainstream Lancaster businesses.
Champions Retreat provided an opportunity for B Corps and people committed to using business as a force for good to connect, learn from each other, and take bold steps together toward an inclusive and regenerative future. The B Corp movement seeks to replace shareholder primacy with an inclusive economic model that also benefits workers, communities and the environment.
Attorney Kraybill has been invited to join the leadership of the national Benefit Corporation Bar Association in the coming year. GKH is proud to be at the center of the local benefit corporation movement and its efforts toward greater good for our community.