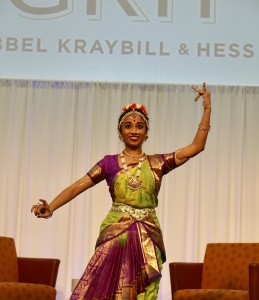 GKH was a proud Community Sponsor of "Around the Table with Arun Gandhi" hosted by Advōz at Spooky Nook on May 4, 2017.
Dr. Arun Gandhi is the grandson of India's legendary leader, Mohandas K. "Mahatma" Gandhi. Dr. Gandhi was interviewed by Scott LaMar, host and Executive Producer of the daily Smart Talk program on WITF. Music was provided by the father-daughter duet of John & Helena Protopapas performing with sitar, violin and voice.
GKH attorneys, spouses and guests were part of the sell-out crowd that participated in the evening's activities. In addition, attorneys Mel Hess and Jonna Stratton joined Dr. Gandhi the next morning for a community dialogue breakfast with a select group of community leaders and Advōz supporters.
Mel Hess, one of GKH's founding partners and a trained mediator, observed, "Incredible presentation by Dr. Gandhi. Only a person with his renown and inimitable peaceful persona could get a standing ovation in Lancaster County after basically saying as to religion, syncretism is not a bad thing!"
Both Jonna Stratton and Mel Hess considered it a pleasure and a privilege to be a part of these two events, and to support the mission and vision of Advōz to promote transformative dialogue in situations of conflict.
Advōz is the new entity formed by the joining of Center for Community Peacemaking and Conflict Resolution Services. Its mission is to transform conflict and build community through face-to-face dialogue programs.