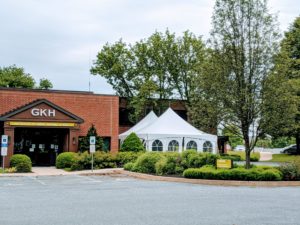 GKH has been putting its empty parking lot to good use during the COVID-19 pandemic, serving the needs of clients who require in-person meetings to sign legal documents. GKH clients recently have been signing documents drive-through style while remaining in their vehicles, a practice that works well as long as the weather cooperates.
Now, the GKH process has been refined to include protection from the elements in the form of a tent erected in the parking lot to the right of our main entrance. Clients, attorneys, witnesses and a notary are all accommodated under the tent and able to maintain a safe distance from one another while executing documents related to estate planning, real estate transactions, business transactions and other documents, signature for which requires a physical meeting.
The GKH tent will be equipped with supplies for maintaining a low-risk environment—hand sanitizer, disinfecting wipes, and extra masks—and all surfaces will be thoroughly cleaned after each appointment. New pens will be provided for each signing.
If you've been putting off necessary legal work during the COVID-19 pandemic, now is a good time to venture out. Getting your house in order has never been easier or safer.