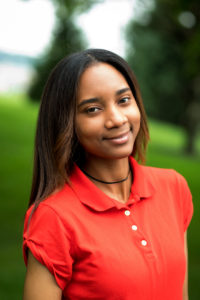 GKH welcomed Ivelisse Cordero as the 2018 participant in its annual summer internship/scholarship program for School District of Lancaster graduates. Program applicants must be seniors at McCaskey High School, accepted into a four-year college degree program, and interested in pursuing a career in the legal field.
Ms. Cordero was born in the Dominican Republic and moved to Lancaster in 2014. She speaks English, Spanish and French. She was hired for full-time summer employment following her high school graduation from McCaskey in the spring of 2018. Ms. Cordero is interested in a career in law and international relations.
As Ms. Cordero reflected on her summer job, she said, "Being an intern at GKH was the best experience I ever had in a workplace. I thought working with lawyers would be intimidating, but I was wrong. The attorneys and staff at GKH were always willing to help me, and taught me a lot of important things about the legal field and about the real world. I am so grateful for this opportunity."
"We want to encourage students from diverse backgrounds to consider pursuing a career in law by providing them with an opportunity to experience what it is like to work in a law office," said managing partner Dwight Yoder. "We know Ivelisse has a bright future ahead of her and look forward to following her through college and beyond."
While at GKH, Ms. Cordero attended a zoning hearing and a deposition, helped to prepare legal filings, participated in practice group planning sessions, and had opportunities to be mentored by GKH attorneys. Her experience also included a variety of general office tasks, special event planning, file management, and assignments from attorneys and support staff.
In addition to being compensated for her summer internship, she will receive a scholarship toward her undergraduate degree.
For more information on the internship program for the School District of Lancaster's McCaskey High School seniors, contact GKH.