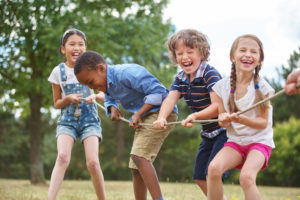 Pennsylvania's Child Protective Services Law (CPSL) requires that paid and unpaid persons who work directly with children undergo two state background checks (the Pennsylvania Child Abuse History Clearance and the Pennsylvania State Police Criminal Check) and an FBI Criminal Background Check. Only volunteers who meet certain requirements qualify for a waiver from the FBI check, which requires fingerprinting.
Until November 18, 2017, the vendor Pennsylvania used for the FBI Criminal Background Check was Cogent. As of November 28, 2017, Pennsylvania began using a new vendor, IDEMIA. IDEMIA uses IdentoGO Centers for fingerprint check processing.
Key points to understand about Pennsylvania's new FBI check vendor and process include:
All applicants for an FBI check will be required to register on-line at the IdentoGO website.
The first step in the registration process is entering one's service code.
The Department of Human Services' (DHS) service code for Pennsylvania volunteers working with children is 1KG6ZJ. The service code for employees fourteen (14) years old or older who have direct contact with children is 1KG756.
A complete table of DHS service codes is available here.
The cost of the FBI check for a DHS volunteer is $21.35; the cost of the FBI check for an employee is $22.60.
Employers will be able to open a "no cost authorization code" (NCAC) account, to facilitate payment for their volunteers and employees who must undergo the FBI check. Information about and paperwork required to set up an NCAC account are available on the IdentoGO website, at the bottom of that site's Pennsylvania information page.
IdentoGO's Pennsylvania page lists fingerprint locations currently open in two locations in Lancaster County, both within branches of the Public Library (550 S. Reading Road, Ephrata and 10 S. Market Street, Elizabethtown), and a Lancaster city location (601 S. Queen Street).
Click here for a complete list of Pennsylvania locations.
---
Prepared by GKH attorney Ann Martin. Attorney Martin practices in the areas of elder law, estate planning and estate administration, and disability and special needs planning